---
Welding Equipment Suppliers
Davies Industrial & Welding Supplies are the leading welding equipment suppliers in Oxford and Coventry. We are proud stockists of industry recognisable brands such as Harris and Lincoln Electric. You can count on us to be your one stop welding shop. Whether you're an experienced domestic consumer or purchasing new machinery for a workshop, we are sure to have the perfect welder for you. Our prices are competitive and our personal service often attract repeated custom and peer recommendations. So call us today for welding supplies UK.
The different types of welding machines may sound confusing to the keen DIYer, but we are happy to help with any questions you may have about any of our machines and equipment. The type of welder you'd need depends on the material you're working with, the nature of the project and sometimes your experience with welding- there is no "one size fits all". Each type has pros and cons over different applications, our experienced specialists will listen to your requirements and advise accordingly.
Call 01608 666110 if you would like to discuss our welding supplies, accessories and equipment.
---
Stick Welders
Stick welders, or formally known as Shielded Metal Arc Welding, is one of the most widely used arc welding processes in the industry. If you learnt to weld some years ago, it's likely you learnt stick welding. Compared to other types of welding processes, stick welders are more versatile in that it's more forgiving in weather conditions such as wind. The relative portability of a stick welder also makes it ideal for on-site welding or when access is limited.
MIG Welders
We are proud to work with the leading names in the industry and are stockist and suppliers of new MIG welders of different specifications. MIG welding is an ideal introduction to the discipline of welding because it's the easiest to learn in all methods. The official name for MIG welding is Gas Metal Arc Welding, due to the fact that it uses a shielding gas to protect the arc- the current between the base metal and the wire which melts the wire and joins it to the workpiece.
TIG Welders
Although difficult to learn, TIG welding is herald as the most sought after welding method because of it's overwhelming advantages. The lack of spatter and fumes gives the welder a clear view of the work in progress and the degree of heat can be precisely controlled with a pedal. It can be used to weld almost any kind of ferrous and non-ferrous metal including brass and titanium. A filler rod can be used to reinforce the strength or improve the aesthetics of the finished weld.
Welding Accessories Supplier
Apart from our fantastic range of welding machines, we are also suppliers of a large range of welding equipment and accessories. Call your local welding accessories supplier today to discuss your requirements. These include but are not limited to: helmets, gloves, replacement parts for our machines and various consumables. All of our friend team members are knowledgeable about the industry and our products, so if you are ever unsure of compatibility, we are more than happy to provide advice and guidance.
Davies Industrial & Welding Supplies are proud to be your one-stop welding shop, if you are new to welding, we can help with your specific requirements and recommend equipment accordingly. We offer bespoke welding accessories and supplies. Our large stock means we can kit you from head to toe in the appropriate gear and we can do it fast. Consumables such as MIG electrode wires and shielding gas is readily available at competitive prices.
---
Plasma Cutters For Sale UK
Davies Industrial & Welding Supplies are not only welding supplies specialists, we also offer top-quality plasma cutters for sale. They are supplied in plug-and-cut kits which are ready to go. Our smallest model weighs only 18.5kg and with an internal air compressor, making it ideal for off-site work due to its portability. We also have larger units manufactured by industry leading brands, with innovative torch/nozzle design which aim to increase the life of consumables.
Plasma cutting is the process of using an ionised, conductive stream of plasma to cut metals with precision. This process can be used to cut all types of metals by either handheld or precision CNC operation. Using plasma to cut metal produces a clean result, if paired with a CNC set up, it can be extremely flexible and produce complex, artistic shapes. Plasma cutting is also more cost effective when compared with other methods such as laser or water-jet, also providing a faster cutting speed.
---
Welding Supplies in Oxford
We have been serving the local community of Somersby and Banbury for over 30 years, and have established excellent working relationships with local businesses and public alike. Our central location allows us to extend our service from Coventry to Oxford, serving and supplying our products with care and dedication. Our friendly team are always available should you have any queries about our services or our stock.
If you are looking for welding supplies in Oxford, you can count on us to provide you with an adequate range of equipment, accessories and consumables. We sre your first choice for welding equipment suppliers. We are proud to have built a professional reputation over the years which is reflected in the fact that we are highly recommended amongst both trade and public customers.
Stick Welders For Sale
They are highly popular in home welding because they are relatively inexpensive. They are suitable to work on most common metals and alloys such as cast iron and stainless steel of a variety of depths and thicknesses. Stick welding has been known to require more skill and practice to master, common obstacles include not maintaining the electric arc, or not creating a smooth weld along the joints. We carry several stick welder kits and the related consumables such as different grades and types of electrodes.
New MIG Welders
MIG welders are suitable for the keen hobbyist due to its ease of use. Better control can be achieved on thinner metals which makes it an ideal choice for projects such as car restoration. The choice of wire and the shielding gas depends on the type and thickness of the base metal. The spool-fed wire means a higher welding speed, as well as a cleaner weld is achievable. Some of our MIG welders are also equipped to carry out Flux-cored welding which eliminates the need for a separate shielding gas, reducing the cost and increasing the versatility of the welder.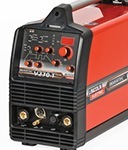 TIG Welding Machines
TIG welding is a technique suited for people who already have a relative amount of welding experience. Due to the coordination requirements of the process, they can take time and practice but once mastered, produces a clean and beautiful result. Gas Tungsten Arc Welding as it's technically referred to, uses a non-consumable pure or alloyed tungsten electrode to melt and join 2 metal components. Here at Davies Industrial & Welding Supplies we can advise on the specification of our TIG welding machines to make sure yours is the one which suits you best.
WELDING EQUIPMENT AND SUPPLIES SPECIALIST FOR OVER 30 YEARS
Our convenient location allows us to serve across Coventry, Rugby and Oxford. We always aim for a speedy delivery and every order is treated with the same urgency regardless of size. Customer satisfaction is at the heart of the company and we do our best to ensure our customers receive the best possible service and the best quality products. In addition to equipment and machinery, we supply a variety of welding consumables and other accessories.
Davies Industrial & Welding Supplies
Armscote Road
Tredington
Shipston-on-Stour
Warwickshire
CV36 4NP